Is that a new tattoo I see there peeking out Stu?
Charlize Theron's Ex -- Breaking Up Sucks
[from TMZ]
While at an art gallery in L.A. this weekend, Charlize Theron's ex-boyfriend Stuart Townsend put on quite a show by sucking face with some brunette lady friend.
Stu's PDA comes two weeks after Charlize was caught sharing an intimate hug and kiss with Keanu Reeves.
At least the feelings are mutual.
*~*~*~*~*
Another related article:
Stuart Townsend has moved on from Charlize Theron By
BUZZ BRADY
,
IrishCentral.com Staff Writer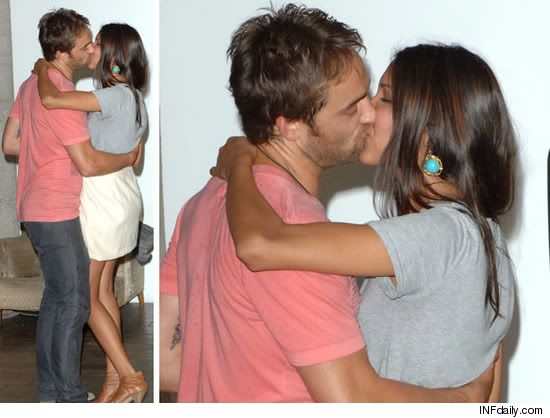 Stuart Townsend had his heart broken back in February, but it looks as if he's finally has moved on from his nine year relationship with Charlize Theron.
The 'Best Man' actor was spotted dancing and making out with a mystery brunette at - of all things - the
'Love Them and Leave Them'
Art Opening at R and R gallery in Los Angeles over the weekend.
Maybe the name of the show made him laugh. But something certainly agreed with him because - along with all the canoodling - he was pictured laughing and looking like a million dollars months after his painful breakup.
It's great to have him back on the scene again.
-----------------
Oh how I'd love to be in her place!